As the first global company to develop multifunctional biological nanorods (a million times smaller than a dot), Nanophage Technologies' ground-breaking biotech capabilities could mean faster and more accurate medical diagnoses and treatments.
(November 15, 2022)
Nanophage Tech's
innovation will achieve this by changing the way immunodiagnostics and immunotherapy companies attain superior reliability at detecting diseases, all at a lower cost.
Nanorods are designed based on one of nature's designs: the filamentous bacteriophage (a virus that attacks bacteria). Nanorods are essentially tiny, nanometre-scale bundles of protein wrapped around DNA, but they don't share any of the virus-like qualities of their larger cousins; they cannot infect bacteria, and their DNA doesn't carry any genes – it simply behaves as a scaffold for the proteins to hang onto.
Superb performance and low cost of production are not the only benefits of Nanophage Tech's innovation; biological nanorods are also environmentally safer than are the chemically-synthesised therapeutic and diagnostic particles since biological nanorods do not involve chemical synthesis or processing. "Furthermore, biological nanorods are ethical, because they do not require the use of animals or animal cells, but are rather made by 'good' bacteria that are cultivated using simple non-animal ingredients such as yeast and sugar" says Jasna Rakonjac, President and CSO of Nanophage Technologies.
Superior reliability is critical for accurate diagnostics, and of course the more accurate the detection, the better the outcome for the patient. So what Rakonjac and her team at Nanophage Technologies has been able to achieve could result in any number of significant changes when it comes to things such as in-home diagnostics, tissue targeting, biologic medicines and immunodiagnostics.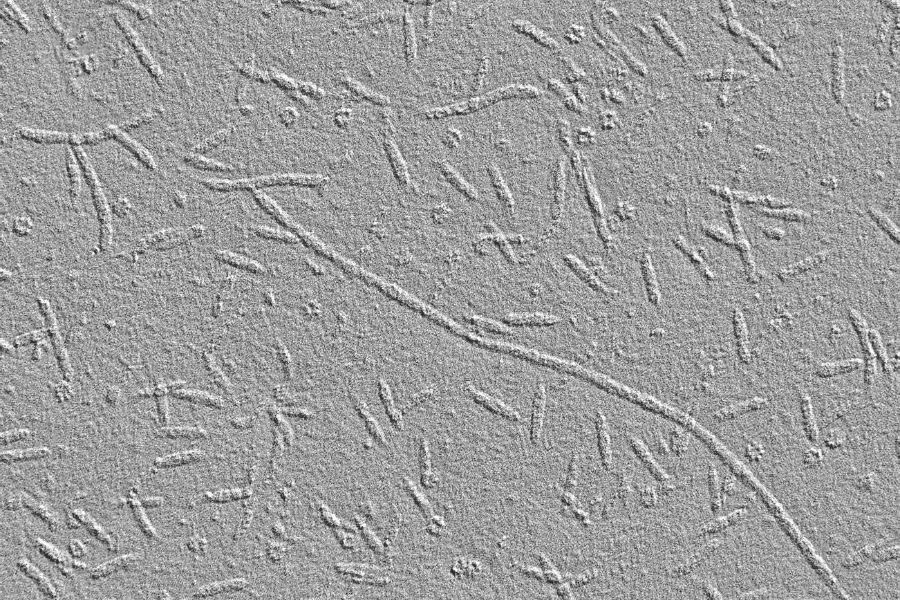 Electron microscopy image of nanorods only 50 nm in length, next to a full-length bacteriophage.
"We're aiming to do a shakeup of the industry and not only replace synthetic, but also many of current biological particles or proteins (biologics) with what we have developed. At the yield of ten quadrillion per litre, production of biological nanorods gives 1,000 times more particles than the cell culture production of adenoviral particles used as influenza and COVID-19 vaccines."
Rakonjac's study of phage and immunology began when she joined The Rockefeller University in New York as a Fulbright Scholar. After this, she moved to New Zealand with her family, taking up a tenured academic position at Massey University in 2003. It was here that she designed functionalised biological nanorods.
"Nanorods are released from bacteria as chimaeras, each having a nanorod as its body and antibody as a 'head', so antibody is produced without a need for animals or animal cell culture.
These functionalised biological nanorods are based on the phage display technology – that earned a 2018 Nobel Prize. But we went one step further and modified phage to make short nanorods instead of the whole bacteriophage," explains Rakonjac.
The result? Biological nanorods that are a rather handy biotechnological gadget which could be used in a variety of applications, particularly in the area of diagnostics. "Nanorods will make scientists' lives in the lab a lot easier, but will also benefit every human being interested in their or their pets' health status with a more accurate diagnosis and at a lower cost in comparison to currently available home-use tests.
"Basically, this one new sleek component is bound to replace older ones in diagnostics and therapy – in a similar way the electric engine is replacing the combustion one in the cars – except it will be a lot more democratic than e-car due to the lower cost," says Rakonjac.
But of course, as with any kind of medical intervention, it can take two to five years for testing, validation and approval by agencies such as the FDA (Food & Drug Administration) and TGA (Therapeutic Goods Authority) and the EMA (European Medicines Agency) before there is a final product to sell to customers. In the meantime, Rakonjac and her team are looking to raise $5 million dollars of investment for the development of their diagnostic and R&D immunoassay prototypes.
And the future of the biotech innovation may also depend on who shows an interest in the development. "Like any company it starts with a particular invention and it could either expand and take up other things under a bigger umbrella, or it could partner with large companies that already produce other parts for medical detection devices," explains Rakonjac.
"At the moment we're covering quite a lot of different things, so it might come down to focusing on the most urgently needed application – whatever has a priority. We may also work backwards, finding out where nanorods can improve a product with a research or medical priority, and providing a nanorod-based component."
Rakonjac initially had support from Massey University, Massey Ventures and the Ministry of Business, Innovation and Employment, but the biggest help in converting the technology to a product-based business was the involvement of Bridgewest Ventures NZ in 2022, which fostered the inception of Nanophage Technologies as a company. A grant from Callaghan Innovation further helped to get the company off the ground. It's a repayable grant, but allowed her to establish everything needed for the foundations of Nanophage Technologies, as well as bring on board Bridgewest-based business experts including John Robson, General Manager at Bridgewest Ventures NZ, who have supported her transition into her role running a company.
"I have had plenty of experience in terms of publishing and patenting, pitching projects and securing funding, but this is so different. I did not understand how important it is to always be considering the end user, the market, the need, making contacts and the social aspect of it all. Every week we have to think about another thing like KPIs and making sure we fulfil them, and if we don't, what is our back up plan?"
However, while Rakonjac is at the helm right now, she actually sees the future of the company in the hands of her team of young scientists, with her in an advisory rather than a hands-on role. "They have so much energy and enthusiasm, and they are all extremely capable. It will be powerful when these young scientists and budding entrepreneurs, who are looking so far into the future, take charge."
Story by Erin Harrison, #nzentrepreneur